This blog was co-written with Melissa Roberts, a 1 Million Cups Kansas City Organizer.
With 1 Million Cups, as with any startup, our tendency is to put our best foot forward. We spend a lot of time talking about all of the great successes that we've had over the past year–and there have been many. But one of the things that makes our program special is that sense of having a safe space to share what you haven't done well and what you're struggling with on a day-to-day basis.
Even when it feels as if we're stepping outside of our comfort zone, we're improving the community as a whole. We're helping someone else learn from our example, or avoid our pitfall. In that vein, here's an accounting of the biggest, baddest, and best mistakes 1 Million Cups made in 2013: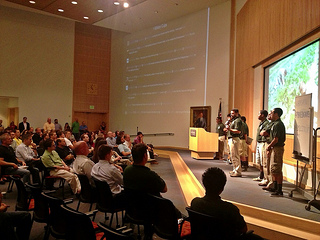 1) We scaled way too fast.
Conventional startup wisdom would probably tell you that scaling to 22 new cities in a year is venture suicide at worst, utter chaos at best. We'd be lying if we told you that we spent every moment of 2013 functioning smoothly as a well-oiled scaling machine. But the snowballing demand for 1MC forced us to work more quickly and instinctively than we otherwise would have, and had we done things differently, we probably wouldn't have ended up with the explosion in demand we've had today.
But we're working on it: We've put lots of time into developing a more hands-off, franchise-based approaching to launching 1MC in new cities. We've written a playbook with input from current organizers to better explain our goals and guidelines. We built a new, more user-friendly back-end system to the website. It doesn't end there, but finding new, more efficient ways to handle new city launches continues to be at the top of our priority list.
2) We used terrible, terrible puns.
We're sorry we're not sorry. But you have to admit, they were kind of funny. You try resisting the urge to use coffee jargon, slang and every synonym for caffeinate you can think of when talking about 1MC 20 out of 24 hours in a day, every day. They even caught on in the media. But it's time for us to move on, focusing more on the strength of our brew than the flavor, so to speak.
But we're working on it: We put a moratorium on the words "brewing," "percolating," and "caffeinating." This lasted roughly 35 seconds. We welcome your ideas for new coffee-related pun material in the comments.
3) Our biggest success story was kind of an accident—or at least unintentional.
After seeing the success that early presenters had in Kansas City, some of them hit the road as we started to scale to new cities. Companies like Rawxies, Message Qube, Instin and others presented at outposts in St. Louis, Denver and Columbia, and some of the other chapters started informally sending some of their presenters to Kansas City. What started as one company asking if they could pitch at another other city while in town on a business trip, grew to become an informal network.
But we're working on it: After seeing the success of a few of these early travelers, we worked to more intentionally facilitate travel between 1MC cities and have built those considerations into the new back-end of our website. We're calling our formal effort "The Passport Program," but we can't really take credit for it. True to the entrepreneurial spirit, those early presenters recognized the opportunity to leverage our national network, and did just that. As we continue to expand, there will only be more opportunities for our presenters to grow.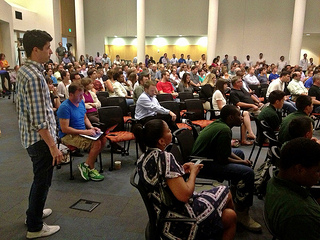 4) We held a very last-minute organizers summit.
When you organize what equates to a national convention in less than a month, you run the risk of putting together a slap-dash affair. Ours wasn't thanks to two factors that (as usual) we can't take credit for. First, the generous support of the Kauffman Foundation, the access to Kauffman Labs and Conference Center facilities, and the incredible professionalism of the Kauffman Foundation staff who gave us a home, in more ways than one. Secondly, the caliber of the people who serve as community organizers around the country is absolutely unmatched—and we didn't truly understand it until we saw everyone together at once. Just putting smart, dedicated people in the same room will lead to incredible conversations, revelations, best practices, new priorities and a completely new perspective on the program.
But we're working on it: Right now, our strongest asset is our national network of community organizers. We're trying to create systems that make their lives easier through the new website, holding online office hours, and finding more opportunities to get together and share what we've learned with each other.
5) We didn't really say thank you.
Our mothers would be ashamed. Really, they would. Because we were so focused on growth over the last year, we often forgot to thank the many, many people that contributed to 1MC's success—from our colleagues at the Kauffman Foundation that helped us design a more intuitive website and a newsletter template, to the media outlets that covered the program, to our nearly 1,000 presenters, and the thousands of people that participate in events each week across the country. We even forgot to thank *gasp* our community organizers. They know that we love them anyway, but still, we can do better.
But we're working on it: We're taking a moment right now to say the biggest, loudest THANK YOU the world has ever heard to all of the people that worked together to make this incredible program a success in 2013. Here's hoping we'll make equally big mistakes in 2014.